Arbitrum's TVL is the leader in Ethereum Layer 2 networks because of its many advantages, which we will discuss in more detail in our latest Ethereum news.
Arbitrum is one of Ethereum's Layer 2 networks and has attracted a lot of attention from crypto users and developers since its inception. Arbitrum's TVL spans all Layer 2 networks, according to Footprint Analytics, and amounted to $ 2.25 billion. Arbitrum is one of the leading players in all networks. Even so, Arbitrum's TVL has overtaken other projects and exceeded expectations because of its advantages. But what exactly are these advantages?
Data Source Footprint Analysis – Top 5 DeFi Protocols on Arbitrum
Arbitrum's optimistic rollups solution is more popular with developers in the short term, but in the long term the ZK rollups network may have to catch up due to the higher speed and higher security. Arbitrum also processes 40,000 transaction requests per second, which is much larger than Ethereum's 15-30 requests, which means it reduces network congestion and increases speed while reducing costs. According to the external data, the transaction cost of Arbitrum is 1.8 Gwei compared to ETH 64 Gwei.
Most of the people ask why the optimistic network is using the rollups solution and it's not as good as arbitrum. Arbitrum's rollout strategy included more than 400 DeFi projects before it was made available to the public, and dozens of projects were online at the same time as the rollout began. This enabled users to perform a wide variety of operations in the ecosystem. Optimistic, on the other hand, uses a whitelisting mechanism and these projects are made available in the main network. Because of Arbitrum's open development mechanism, it wasn't the main defi protocol that made it famous, but rather the various "degen" investments that offer high returns.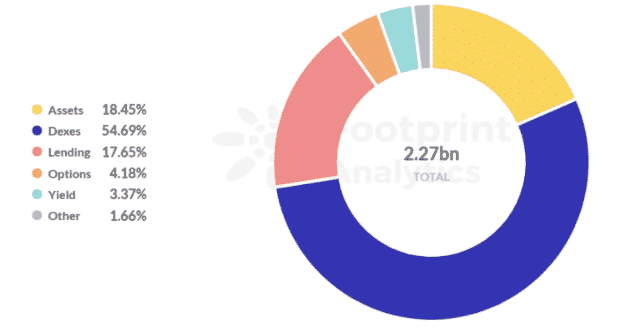 Data Source Footprint Analysis – TVL Share of Category on Arbitrum
Arbitrum's initial TVL growth is due to ArbiNYAN attracting investors to invest their native tokens with returns of 1000% and more. The projects were not legitimate, but they created the new ecosystem. Arbitrum has 44 live projects that are not really big. Among them, the defi category is dominated by DEX, and it is credit and investment categories. DEX makes up 56% of TVL and assets make up 18%. If you look at the TVL ranking for Defi projects, these epee projects are not in the top 5, while mainstream projects rise to the top. Curve ranks first with a TVL of $ 420 million.
DC Forecasts is a leader in many crypto news categories, striving for the highest journalistic standards and adhering to strict editorial guidelines. If you are interested in offering your expertise or contributing to our news website, please feel free to contact us at [email protected]