Fed Chairman Jerome Powell's recent comments that officials should hold back throttling the bond purchase program because of the COVID-19 Omicron variant caused BTC and ETH both to crash 6%, as we can see in today's Bitcoin news.
The market problems of a week ago have not subsided. Bitcoin and Ethereum both fell 6% on Monday, according to Coingecko. The previous week ended on news that Chinese real estate developers Evergrande and Kaisa missed paying the US dollar bond, causing the crypto and bond markets to crash. Analyst Alex Kruger said we should see the impact of performance fees, audits, wash sales and bonuses soon.
The main concern now, however, is whether the Federal Reserve will change its plans to slow the bond-buying program, which is slated to complete in March instead of June. The impact of the Fed chairman's new comments has been evident in the crypto and traditional markets. BTC slid since Friday to trade near $ 47,000, a 31% decrease from its previous high of $ 69,044. Ethereum, which was trading at nearly $ 4,000 late last week, lost ground over the weekend, trading at around $ 3,800.
Things looked worse for the other coins in the top 10. Solana's SOL token lagged 9% and Cardano's ADA fell 7.5% from the previous day. Meanwhile, the global crypto market cap was $ 2.26 trillion, down 5% on the previous day. Exchange-traded products linked to crypto assets like the Grayscale Bitcoin Trust and Ark Innovation fell 4% and 3%, respectively, at the beginning of the week. Traditional markets are not doing much better either. The New York Stock Exchange Composite lost 124 points from Friday's close.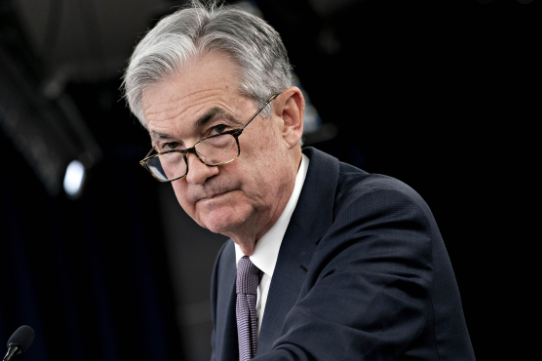 Jerome Powell
By the end of last week, economists said they expect the FED to raise interest rates, which will mean an early completion of the government bond purchases and mortgage-backed bonds programs that have been used to prop up the economy continue to suffer from the effects of COVID -19. Deutsche Bank even wrote:
"We expect the Fed to announce a doubling of the tapering pact at the FOMC meeting in December, increasing the monthly drawdown for Treasuries and MBS to $ 20 billion and $ 10 billion a month, respectively . "
If so, purchases will end in March instead of June, but now there are signs that FED officials may be taking the Omicron variant virus much more seriously than the Delta variant. Fed Chairman Jerome Powell wrote:
"Greater concern about the virus could reduce people's willingness to work in person, slowing labor market progress and exacerbating supply chain disruptions."
DC Forecasts is a leader in many crypto news categories, striving for the highest journalistic standards and adhering to strict editorial guidelines. If you are interested in offering your expertise or contributing to our news website, please feel free to contact us at [email protected]