– Advertisement –
LUNC zooms to rank 26 by market cap from 206 in less than 24 hours.
LUNA Classic (LUNC) Leapfrogs Big Names Like Tezos, ApeCoin, Bitcoin Cash, Stellar, MANA, Monero, To Rank 26 By Market Cap From 206.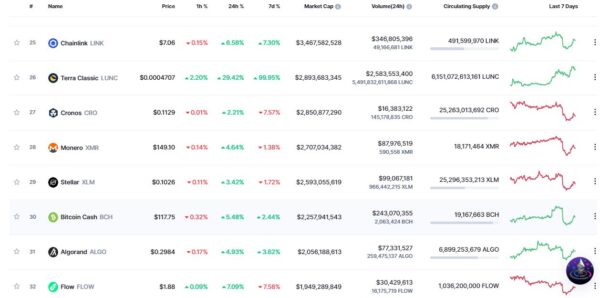 Image source: https://coinmarketcap.com/
According to data from CoinMarketCap, LUNC now ranks 26 by market cap after its market cap surged by 31.78% in the last 24 hours to about $2.9 billion. The market cap has nearly doubled from $1.59 billion on September 2, an 82.39% rise in the previous seven days. Notably, with the move, the asset leapfrogged big-name assets like Bitcoin Cash, Monero, ApeCoin, Tezos, etc., in the market cap rankings. The better positioning results from CoinMarketCap Officially updating LUNC ranking and supply.
It bears mentioning that the move is a testament to the strength of the community who have taken over the reins of the project. Its focus so far has been to reduce the supply of LUNC tokens minted in excess following the de-pegging of Terra USD Classic (USTC), which saw both assets crash to zero.
The latest burn initiative in the pipeline from the community is to implement a parameter change that will see all on-chain transactions taxed a 1.2% fee, with the fee sent to the Terra-provided burn wallet. The Crypto Basic reported on Wednesday that the proposal would be made available for voting on September 10 and will be activated around September 20 if approved.
Notably, the proposal received a big boost yesterday as KuCoin and Gate.io announced they would support the tax proposal once approved. The leading exchanges join the likes of MEXC Global and Y5 Crypto, who have thrown their hat in the ring in support of the LUNC community. It bears mentioning that MEXC is currently running a two-week LUNC burn event supporting the proposal. So far, MEXC has burned about 119 million LUNC, burning a whopping 71 million LUNC yesterday.
As a result of these moves by the community, the asset has seen renewed demand, making impressive price moves in recent weeks. Crypto.com rankings revealed that the asset has been the top crypto gainer this week.
LUNC is trading at the $0.0004885 price point, up 35.31% in the last 24 hours and 108.1% during the previous seven days.
– Advertisement –